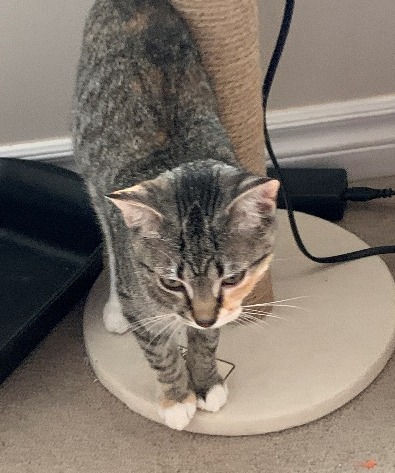 Seven month old Swirl is a sweet and beautiful kitten who is a little shy when she's first getting to know you - She may hop off and find somewhere to hide when you first enter the room, but she is very quickly learning in her foster home just how nice it is to have human friends!

Something that Swirl has discovered that she loves is to lay down beside you as you pet her soft fur, and she turns into a puddle of purrs the moment you get your hands on her. Sometimes, Swirl even gets a little jealous when she sees her other siblings getting attention - She will butt her adorable little head right in and make sure that you know she's ready for some lovin' too!

Swirl has been getting braver by the way, and is extremely interested in what fun can be found in the rest of her foster home - And outside of it, too! She greatly enjoys looking out the window.

Swirl loves dangly toys and laser pointers, and she will run and play until she falls down for a nap.