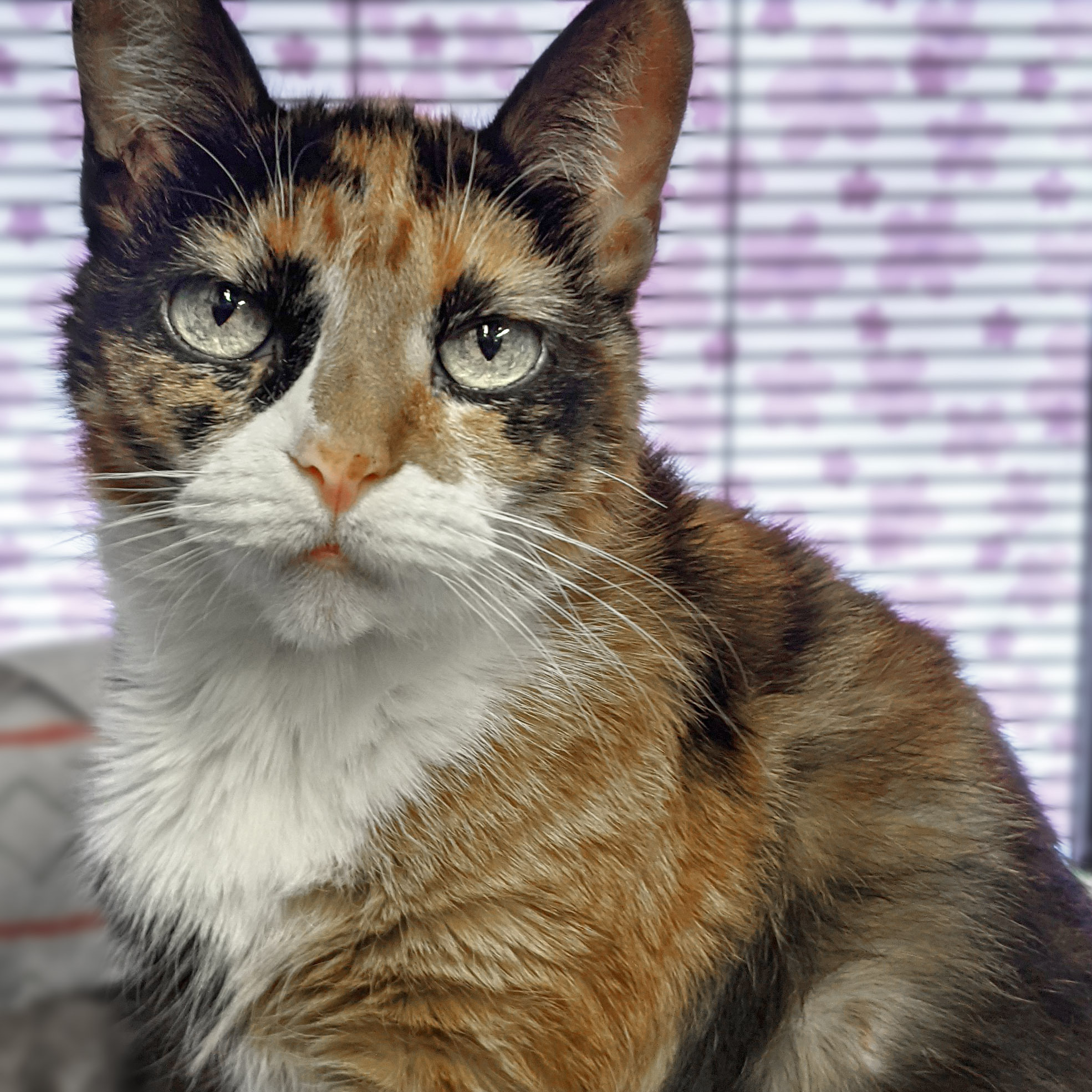 Missy is one half of a perfectly bonded pair, she needs to find her forever home alongside her sister, Pretty!

Four year old Missy and Pretty became members of Furry Friends after their owner no longer wanted to care for them. They came into our care absolutely crawling with fleas, Missy with the worst of it out of the two of them, and in desperate need of a bath. Despite their obvious discomfort and itchiness from the fleas, both Missy and Pretty were so happy to see us! They behaved perfectly even when we had to stick them in the sink for a much-needed flea bath.

Between the two, Missy is the more laid-back, mellowed out kitty. You can often find her snuggled up in a big soft bed, usually with Pretty snoozing on top of her with her paws wrapped snuggly around her calico friend! Sometimes, she will chortle happily when she sees you coming.

While she definitely enjoys her cat nip toys, she would much rather just spend some quality time with you and have her beautiful fur brushed, have her tummy massaged, or have you kiss her sweet little head. There's nowhere off-limits when it comes to petting Missy, she's just happy to have you lovin' on her any time of the day! She also has no problem with being picked up and carried around, as long as you hold her nice and firmly so she feels safe.

Missy can be a little bit shy when you first meet or when she's experiencing new situations for the first time, like being introduced into a new home or environment, but she knows to look to Pretty and her human friends for comfort and confidence. She will need some help getting settled in, when we first let her out for some free-roam time, she scampered around the room and meowed confusedly, staring back at us with those gorgeous eyes as if asking 'Well, what do I do now?' before settling into a large bed next to a friendly kitty and receiving some nice-to-meet-you snuggles.

With meal times, Missy is a great eater and enjoys both her wet and dry food.

Missy gets along great with other cats, and has lived with a dog in the past with no problems.