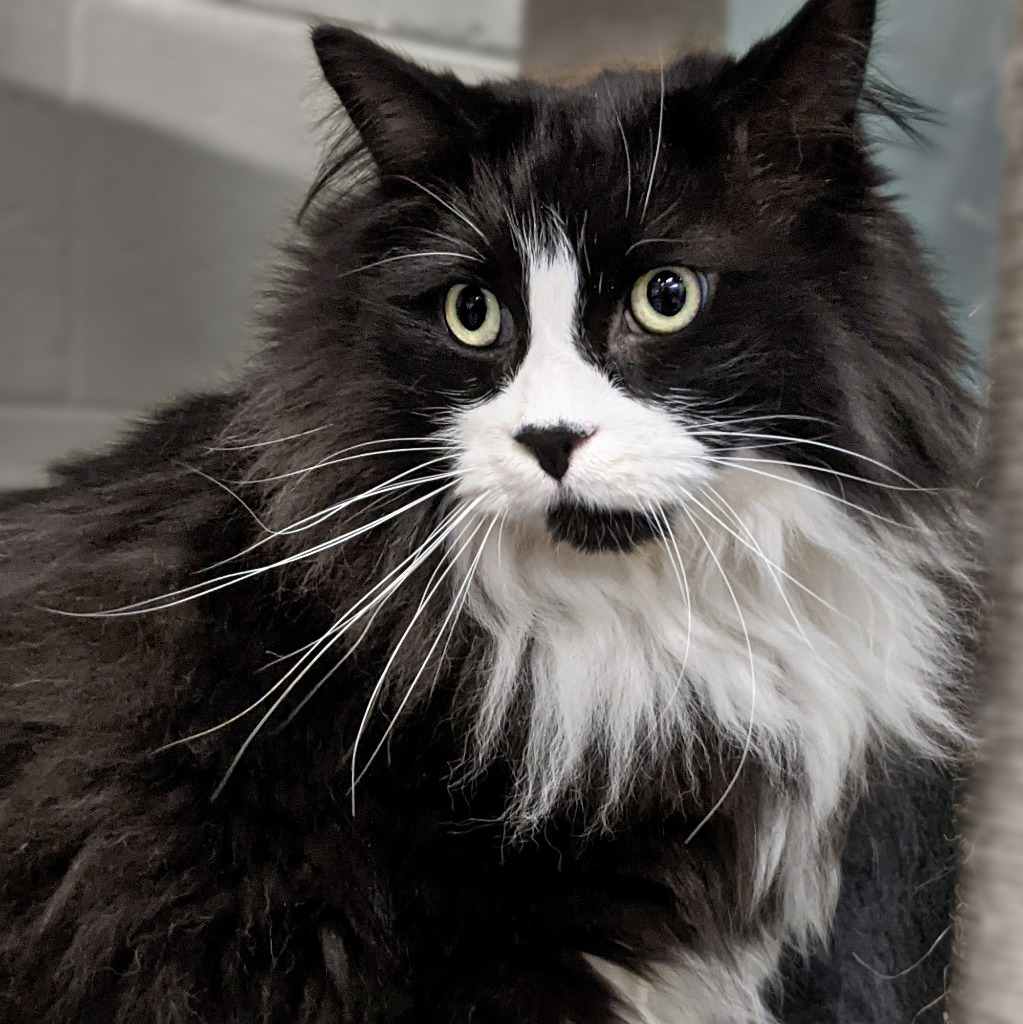 Felix is one half of a perfectly bonded pair, he needs to find his forever home alongside his brother, Miko!

This gentle giant (no, really, he's HUGE!) is quiet and mild-mannered, despite his generous size Felix is actually quite laid back. He never pushes anybody around or demands anything besides belly rubs, this eight year old is truly a kind hearted soul.

Felix became a member of Furry Friends when his owners had to move, and were unfortunately unable to take the brothers along for the ride. At first, Felix was TERRIFIED - What a huge change of pace, going from a quiet home to a bustling, busy shelter environment! He would wedge himself into the tiniest cubbies and beds in order to try and hide, leaving just his sad little eyes peeking out from his fur between the blankets and cushions. We knew there was a heart of gold in there somewhere though, because we could hear Felix's rumbly little purr when we would reach in and speak gently to him.

It took some encouragement and patience (and a well-deserved haircut), but eventually, this proud and pudgy boy's bravery began to shine! He began playing and darting through play tunnels, rolling on the floor in excitement, and wiggling his tail with happiness when he would see us coming. Felix had settled in, and he was so happy that everyone helped him feel better!

These days, Felix still has an adorable affinity for beds that are too tiny for him, but he's much more confident. He loves to have his entire body massaged and having his head and cheeks lovingly rubbed. Not much gets under this gentle guy's skin, you can even pick him up - If you can manage to heft up all 21 pounds of love that Felix sports, that is!

Felix loves to watch birds on TV, play with his brother Miko, and of course curl up on soft beds. It would be a good idea to keep this big guy active and on a healthy diet in your home in order to help shed a few of those extra pounds, but Felix doesn't mind one bit!

Felix gets along well with other cats, and would likely do good with kids that aren't too rambunctious.