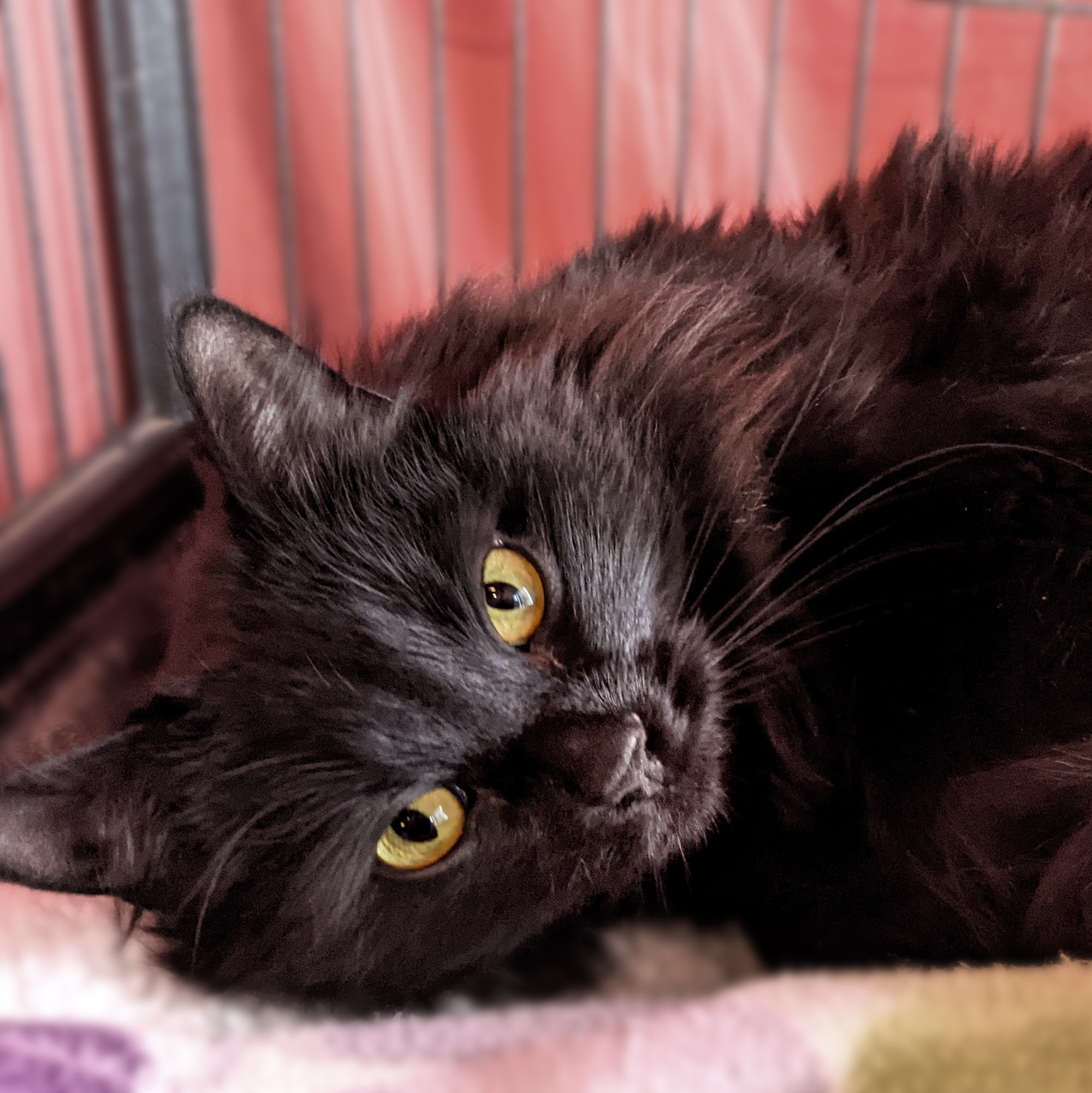 Beautiful two year old Brucee is a petite and sweet delight! Although she may be small and a little shy when she first meets you, she certainly has plenty of personality and enthusiasm for life in order to become your newest best friend once she settles in.

Brucee tends to play a bit timid and shy when she's meeting new people or in new situations, sometimes hiding under her blankets only to peek out at her surroundings once in a while to assess the situation. Like any nervous kitty, all Brucee needs is your patience and understanding as she grows more confident by the day, until eventually she is cool as a cucumber and ready to start making friends.

A great way to earn Brucee's trust is to gently speak to her and encourage her that everything is okay, and to offer her plenty of tasty Temptations treats - Her favourite!

With her big purrs and adorable face, Brucee is sure to steal your heart the moment you set eyes on her... And that's even BEFORE you hear her huge purr! This sweet girl just loves to be loved, and although she would prefer it if you don't venture too far down her back or pat her bum, the rest of Brucee's soft coat is fur is open for brushing, massaging, and petting.

With that gorgeous and thick coat of fur comes a need for a good brushing on a regular basis, but luckily for everyone involved, Brucee enjoys a good old fashioned spa day as much as the next kitty - The moment she sees you coming with a brush, Brucee is up on her tip-toes and prancing around excitedly, perhaps even chirping a little bit with her high-pitched meow!

Something else that Brucee greatly enjoys besides being brushed is her favourite ultra-soft blankets, and cat toys! She has a funny habit of occasionally depositing her toys into her water dish to make some impromptu kitty soup, but it's all in good fun, and she never gets tired of you pulling them out only to do it again a short while later ;)

Generally speaking, Brucee gets along alright with other cats, although she can be very nervous around particularly bold or aggressive kitties. A calm feline friend or no other cats may be the best case for Brucee in her forever home.