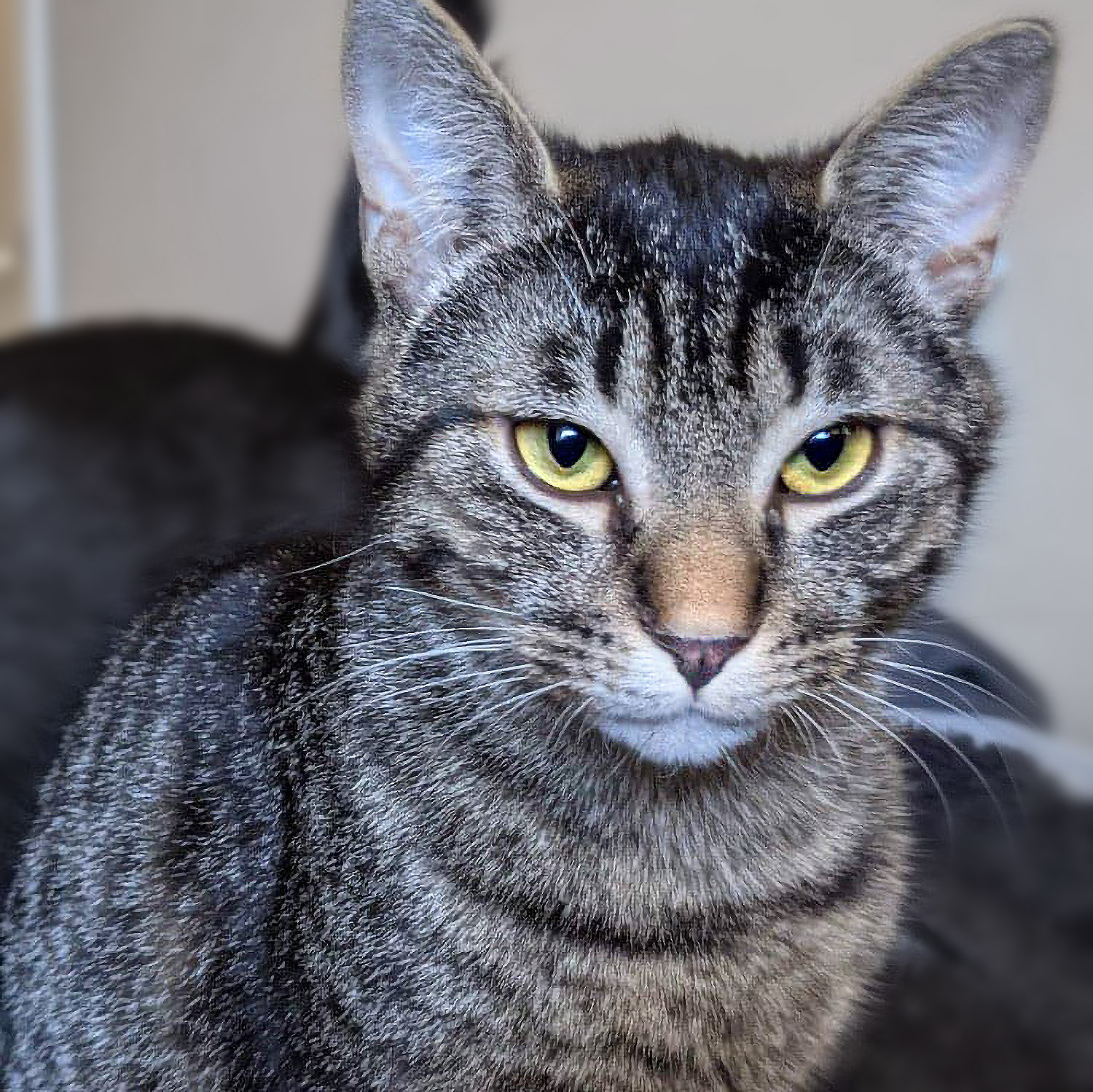 Nine month old Topaz is looking for a forever home! This handsome little dude is playful, affectionate, and a little bit shy when he's getting to know new people. With lots of love and patience, we know that he will only continue to grow in confidence as he comes out of his shell!

Topaz is incredibly energetic and has a huge appetite for play, he's got enough energy to keep the kitty party going all on his own! Whether he's chasing after squeaky toys, toy balls, catnip mice, or bouncing after his favourite fishing rod style toy, Topaz just loves to play for ages. Topaz also adores his scratching posts and cat tree, and will definitely need one in his future forever home to continue to keep his claws neat and tidy as he digs at and monkeys around his cat tree.

When it comes to other cats, Topaz is perfectly well behaved, he loves other kitties! When given the chance, he will always play with his friends rather than on his own.

Topaz may still be on the shy side when it comes ot us humans, but that doesn't stop him from approaching us and asking for attention when he really needs some lovin' - He enjoys rubbing up against his human friend's legs and twirling around your feet when you're walking in order to get your attention, and let you know that he'd enjoy a cuddle. Sometimes, Topaz will even join his foster family in bed and cuddle up for a little while before heading off to play some more!

Topaz is a good eater, and he enjoys both his kibble and soft food. For treats, he's partial to Temptations and Greenies, and his future forever family would likely win his trust faster by offering him plenty of treats as they get to know him.

Even though Topaz has only spent a few months in foster after living outdoors as a kitten, he is doing very well. He has settled in nicely and is enjoying his time in the safety and warmth of his foster home, and we know that he will do just as great in his forever home with the right family! Love, patience and understanding are all Topaz needs to flourish.

Although Topaz has never been around children or dogs before, he does absolutely adore other cats and would do great in a home with other feline friends to keep him company.