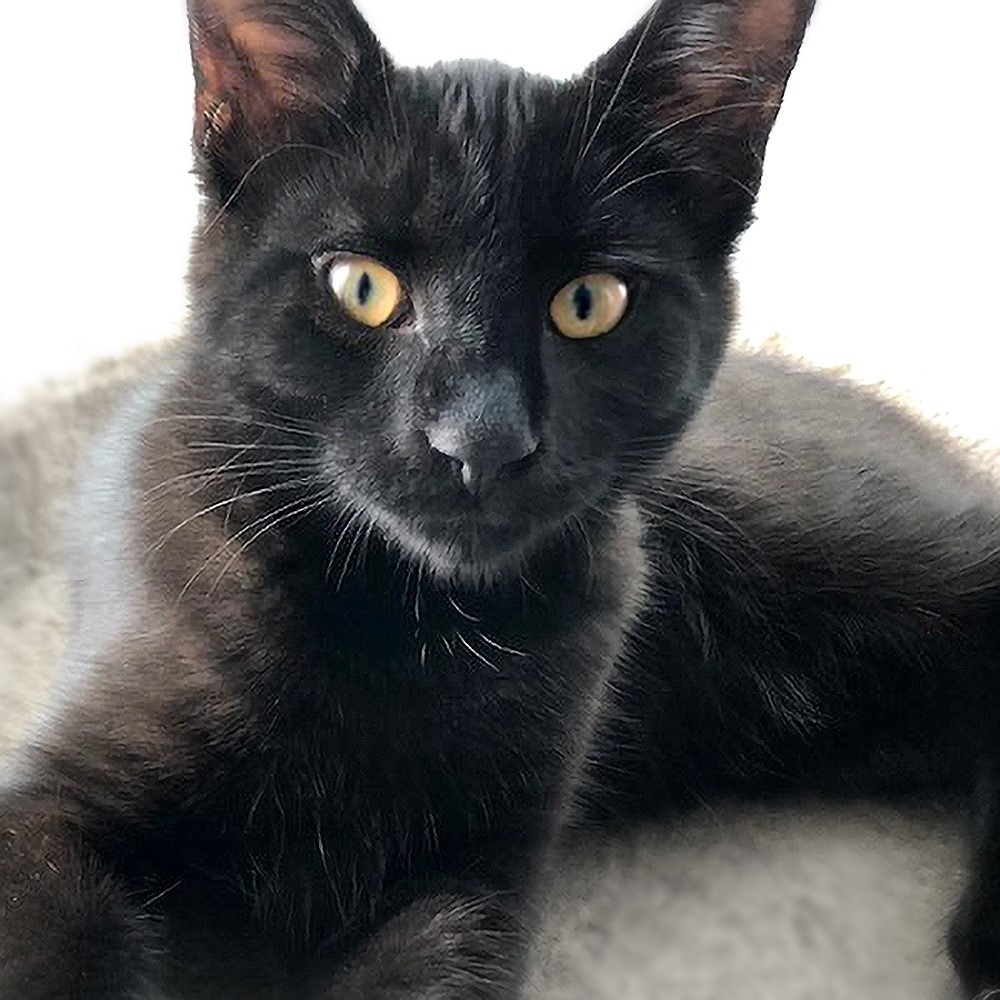 Marshmallow Max, Motor Max, Maximum Max.... Say hello to Max! Max is one half of a purrfectly bonded pair, he needs to be adopted alongside his brother, Bruno!

Sweet little Max is a soft-hearted kitty with a purr that could rock mountains, and a penchant for pushing his limits when it comes to play time and trying to figure out just how close he can sneak up to you while you're busy with something not cat-related... He's a wee bit shy, but once he gets to know you Max will welcome you with open paws!

Max has come a heck of a long way from the wee feral kitty that first arrived at his foster home, he wouldn't even come out from behind his litter box when he and his brother Bruno first moved in! Thanks to plenty of treats, toys and patience Max has made leaps and bounds in his confidence, but this handsome guy still needs a gentle touch to learn that he's in a safe place and around good people. Don't let his shy exterior deter you, once he settles down he's one playful kitty who will cuddle for hours!

When it comes to new people, Max definitely sees 'his' humans as his safety net - He will make a comical get-away to some secluded hideaway to watch any new visitors, but eventually his love of cuddles and affection wins out and he will make his way back to his human friends, and he will warm up to new people in the process! You can help Max build trust with you quicker by offering him plenty of tasty treats, who can say no to those?

You may be surprised how brave and outgoing Max is when it comes to exploring and playing, but he has no problem sussing out new areas to play! He's not even afraid of the vacuum cleaner anymore, and he has taken to setting off his fosters Roomba in a fun little game. Max also isn't afraid of heights, and will calculate each graceful leap carefully before bouncing off! Max is also not shy to demand cuddles once you guys are friends, he will simply come right up to you and ask for some lovin'.

Max can be a little strong-headed when it comes to other cats - He's not aggressive or mean in the least, he just doesn't seem to understand when another kitty has had enough play time! Max likes to test the waters and push his boundaries, so he would do best with another kitty who has excitable energy to match his own!

Max is a great eater who will gobble up anything you put in front of him, especially wet food. He's also quite the little hunter of toys, and he loves small stuffed mice that he can playfully growl at and kick around!