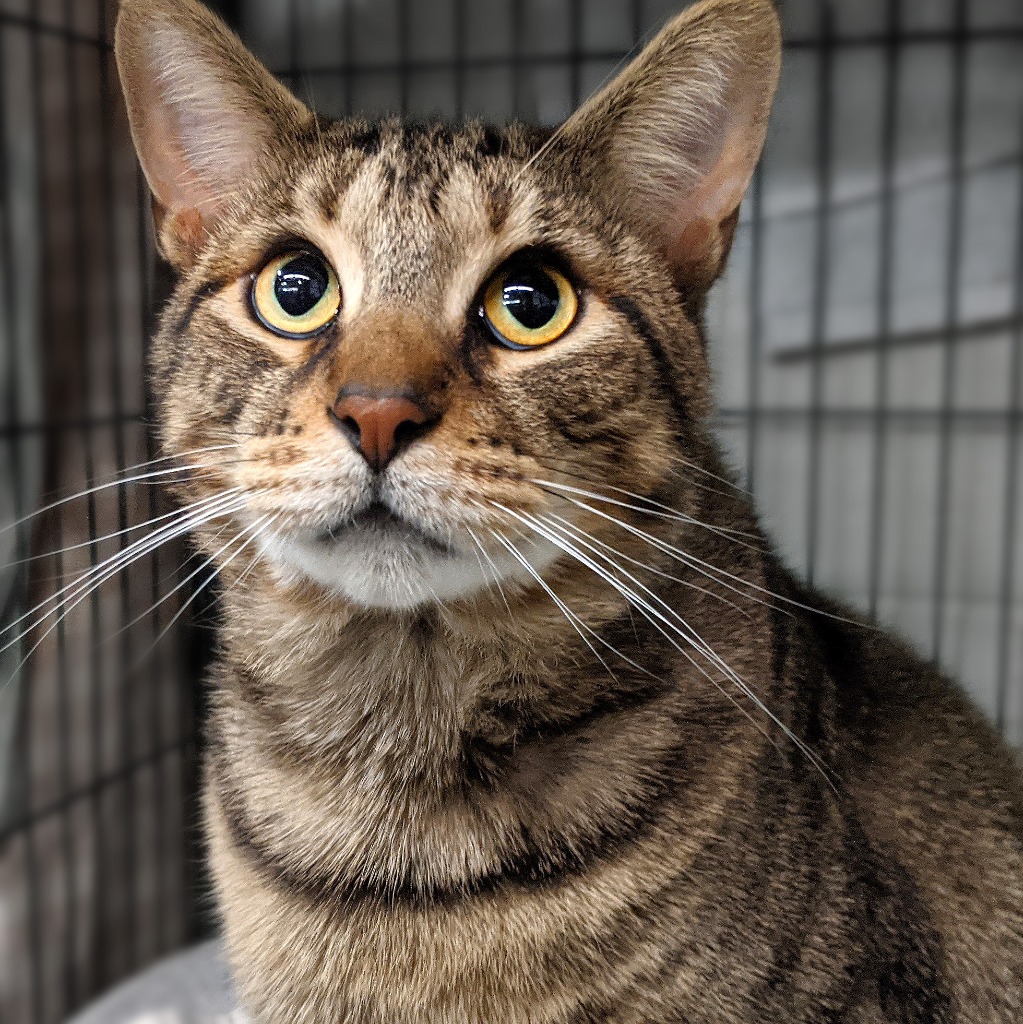 Sammy is one half of a bonded pair, he needs to find a home with his best friend, Ricki!

Sweet and affectionate Sammy is one handsome kitty indeed, he is a two year old charmer who was surrendered to us alongside his best friend Ricki when their family ended up needing to move to a location that didn't allow cats. They were originally both from a barn in their younger years, but don't let their humble roots fool you, Sammy and Ricki are ready to be your newest top notch buddies!

Sammy is, despite his larger size, the more gentle and timid of this pair. He is amazingly affectionate and soft-hearted, if he could spend his entire day getting belly rubs and nose pats from his favourite humans, he wouldn't complain one bit. You can pat his bum, scrub his ears, and he especially loves it if you rub his thick snout, but the truth is Sammy is just happy to have any kind of affection.

When you're giving Sammy a kitty massage and patting his soft fur, you may notice his uniquely long tail wagging along behind him like an excited puppy! Sammy loves to twirl his tail as he wraps himself around your arm, flipping this way and that in order to encourage you to reach juuuust the right spot for scratching. He also drools on occasion when he gets super excited!

Sammy does enjoy the occasional adventure around the shelter, and he can be very playful when the mood strikes him, but more often than not he prefers to be relaxing somewhere comfortable or jaunting around behind our volunteers, trying to sneak in some pets when he thinks we aren't busy! Sammy prefers to put his talented climbing abilities into finding high up cozy locations to nap in, rather than getting into any sort of trouble.

You can pick Sammy up with little problem and carry him around in your arms, not that you really need to with how loyally he follows behind your feet! He's also quite the lap cat, when he's not preoccupied with trying to find out what Ricki's gotten herself into or sniffing out an extra bowl of food.

Sammy gets along fairly well with other cats, especially Ricki, but he's so gentle that he's afraid of aggressive or dominant kitties!