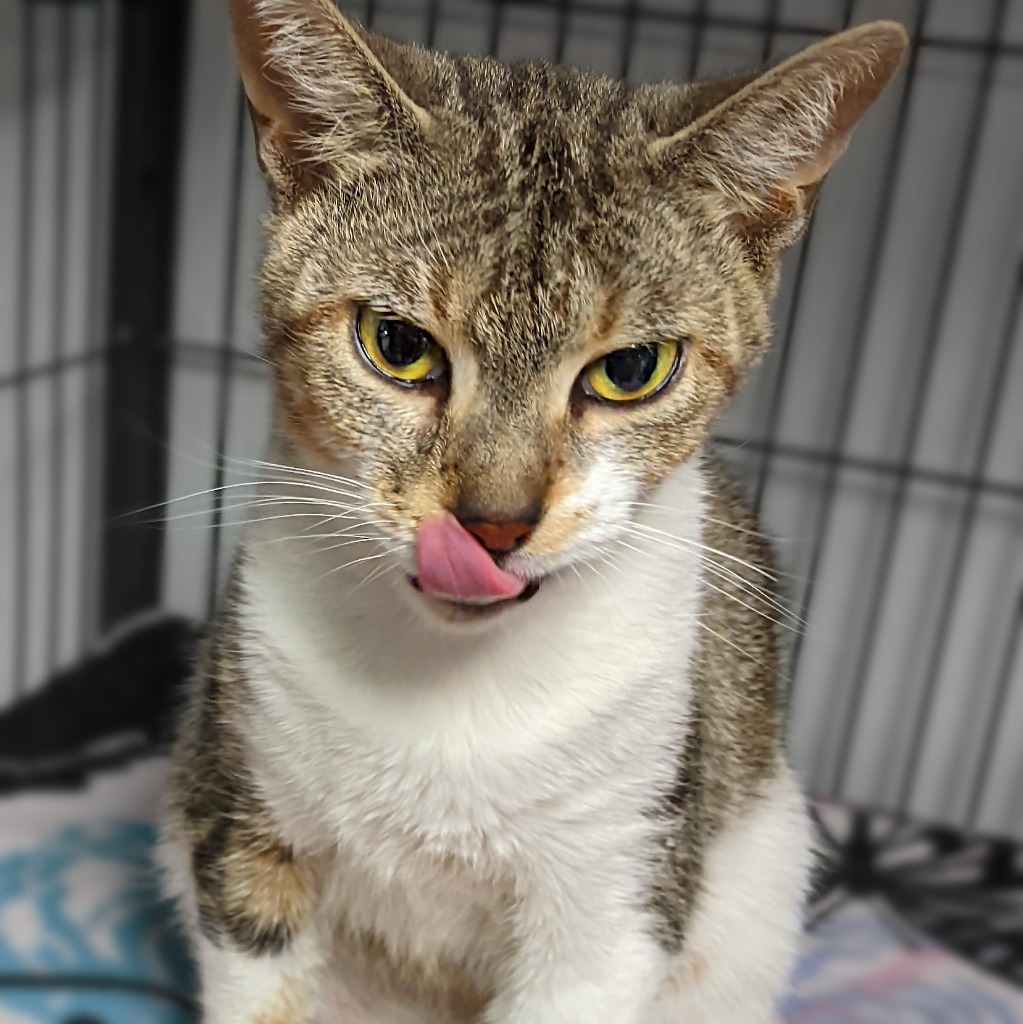 Ricki is one half of a bonded pair, she needs to find her forever home with her best friend, Sammy!

Outgoing, personable, and FUN are all words that can describe our beautiful one year old Ricki. She was surrendered to us alongside her best friend Sammy when their family ended up needing to move to a location that didn't allow cats. They were originally both from a barn in their younger years, but don't let their humble roots fool you, Ricki and Sammy are ready to be your newest top notch buddies!

Don't let her tiny stature fool you, Ricki is anything but small when it comes to her personality! Ricki puts her all into absolutely everything she does, whether it's playing to her heart's content, throwing herself into a cuddle session, or just enjoying life to its fullest! She definitely has the most confidence between her and Sammy, and Ricki uses her outgoing nature to keep her gentle giant friend out of trouble.

Have you noticed Ricki's adorable striped forehead? She kind of looks like she's got a head full of wrinkles, but it just makes her even more unique and lovable as far as we're concerned! Pair that with her pudgy belly, and Ricki cuts quite the figure around our shelter - She struts her stuff without an ounce of worry, she knows that she's gorgeous!

As far as Ricki's concerned, play time is all the time, and the sky's the limit when it comes to where she's going to get herself into next - On top of the cages? Easy peasy. Galavant up the stairs and startle Sammy out of a nap? Absolutely. Into a box high on top of the cabinets that our volunteers can't even reach without a step stool? Of course, Ricki's an expert at adventuring!

Ricki bring the party wherever she goes, especially if there's kitty toys involved, but this clever girl is happy to occupy herself by playing with whatever she can get her paws on. Whoever adopts Ricki will get the fun experience of spoiling her with toys, and figuring out which ones are her absolute favourite!

When Ricki's not playing, you can bet that she's enjoying some quality time with her favourite humans. Ricki gets along well with other cats, especially if they can keep up with her playful energy.