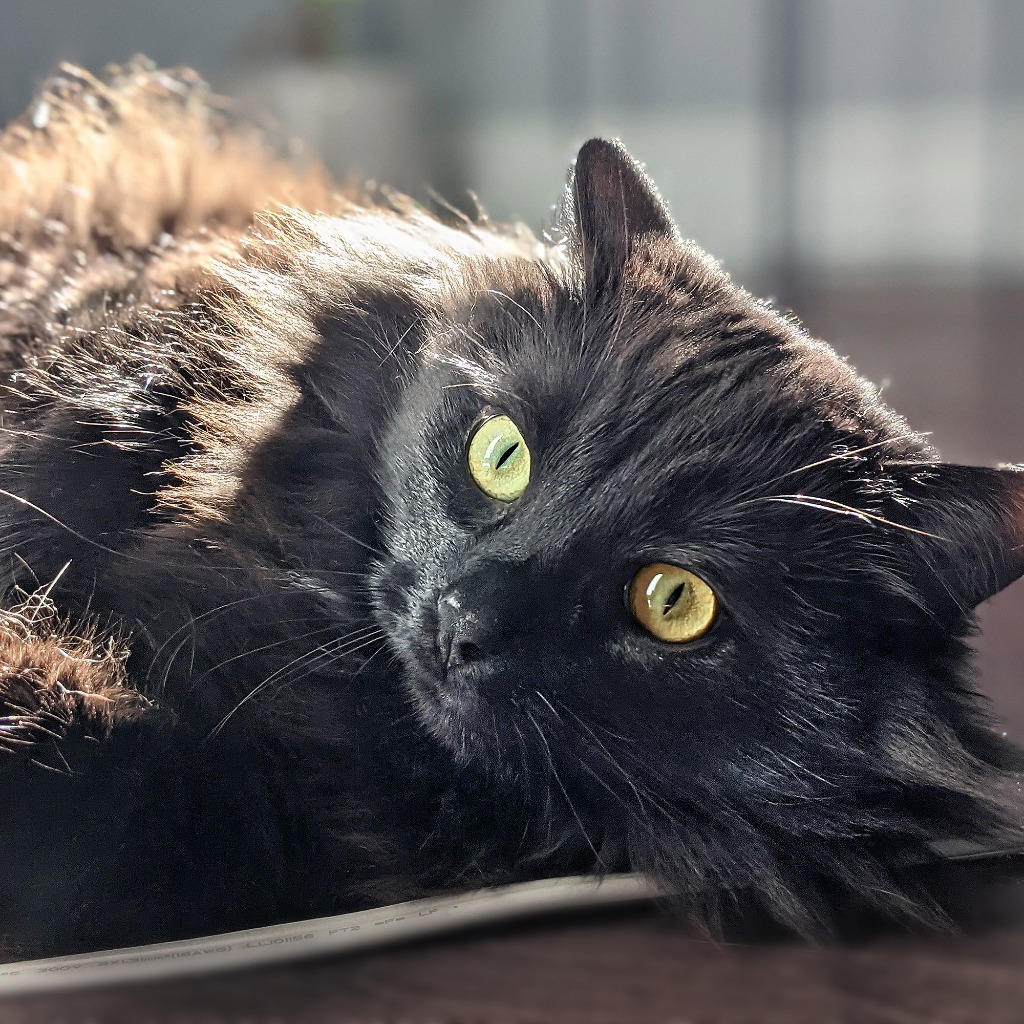 Don't let the name fool you, our eye-catching 2 year old Spook isn't scary at all - Although he certainly gave his human savior quite the fright when he first started showing up on her windowsills, hence the name! Poor Spook was severely down on his luck when he first made himself known to the kind woman who lived in the home he began to visit, but thanks to her patience and insistence that Spook deserved a better life than one that he had, Spook was rescued and brought safe inside.

The perfect day in Spook's eyes would be to lounge all day atop his favourite cat tree, watching the birds and squirrels outside of a nearby window. This handsome boy is the perfect mix of energetic and calm, he appreciates the chance to let loose and play all-out, but he also loves to relax in his spare time. Spook is super playful and full of youth when he gets going, and boy howdy can he jump! Spook can leap through the air when he chases his favourite feather wand like gravity doesn't even exist. Once he's tired out, he's more than happy to snuggle up next to you on the floor, couch, or especially with you at your computer... He's particularly fond of laying on the keyboard and typing you secret messages. ;)

Spook is a well-groomed gentleman, he likes to keep his fur neat, tidy, and impeccably clean - And he'll even let you give him a brush if he's in the mood! He knows that his human friends just can't resist playing with his majestic black mane and beautiful coat.

Spook is at his happiest when his people are close by. Although he is independent and will happily do his own kitty thing, he definitely thrives when he knows the people he loves are just a call away. Spook is a great communicator and will regularly meow, chirp, and rumble to let his family know what's on his mind. Usually it's him telling you he wants to play, and he'll make sure you know what he's thinking by bringing his preferred toy over and dropping it into your lap while gazing at you expectantly.

In his forever home, Spook must be the only kitty as, despite his regal appearance, he's actually quite afraid of other kitties. He also needs to be adopted into a family with no men, as Spook is very scared of them. He likely suffered some form of cruelty at a man's hand while living outdoors in his early life that has caused this fear. You could say Spook is a real lady's man, and he would love to be with somebody who spends lots of time at home!