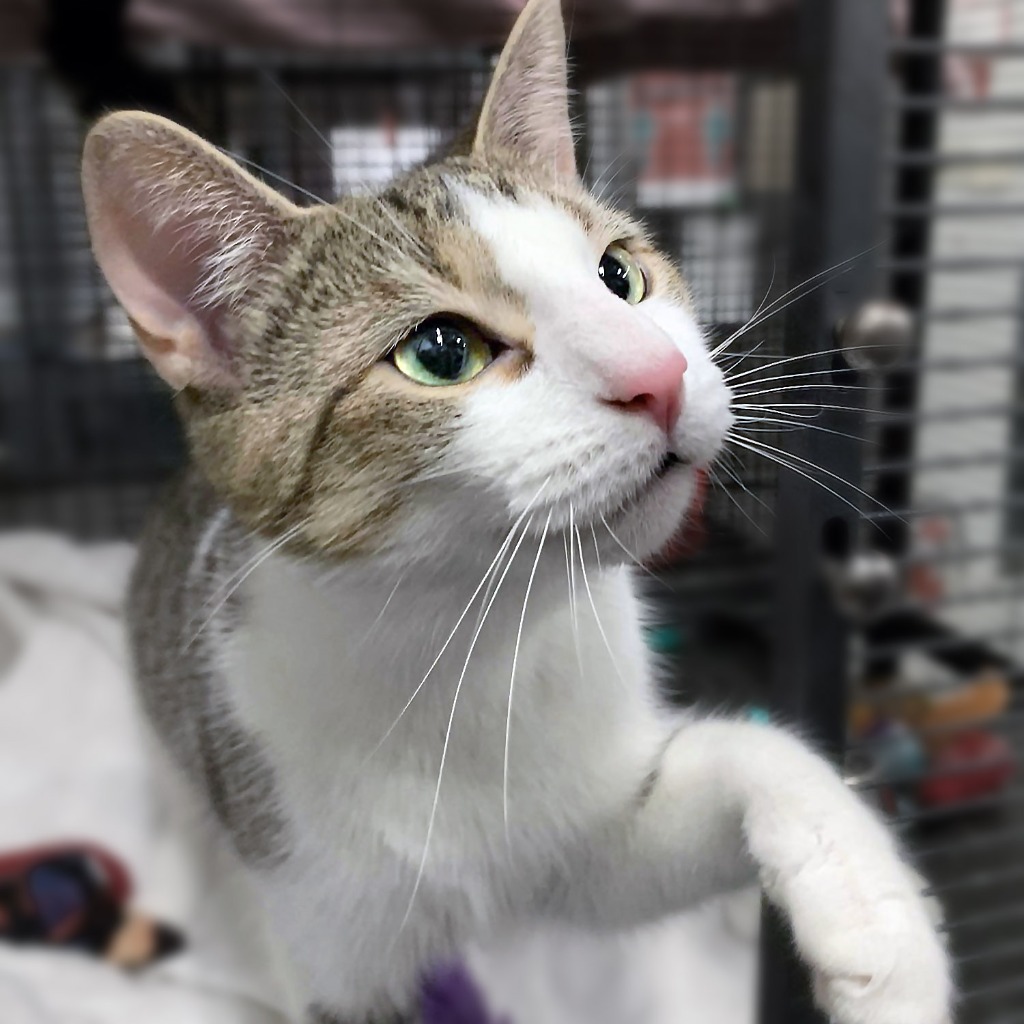 Helloooo Bella! Brave, bright, and breathe-takingly GORGEOUS are all words we could describe this sweet and petite bundle of joy with, but you just have to meet her in person to truly get a feel for how outgoing and fun Bella really is - We know you're going to love her!

For such a small kitty, Bella has a huge personality! Bella loves readily, throws her entire self into playtime, and sleeps like the dead once she finally wears herself out. It goes without saying that if you're looking for a playful kitty who will keep you on your toes with a love of toys and chasing fingers, Bella may be just the girl you're looking for.

Bella's cage at the shelter is well stocked with all sorts of neat toys and bobbles to play with, and so she would definitely appreciate an assortment of goodies to play with in her forever home. Bella has a particular fondness for anything with feathers, as well as those crinkly toys that make crunchy sounds when she swats them, and she just loves catnip toys, and... Well, you get the picture, Bella is a kitty toy connoisseur!

It's not hard to tell when Bella's spotted you, she turns those wonderfully bright eyes in your direction and will sometimes even begin to chirp in excitement as you come closer! She often presses her nose up against her doors or rolls around in her bed as she waits for you to open her cage and give her some attention. Bella is many things, but 'patient' surely isn't one of them!

Bella loves to have her head massaged and her ears rubbed, but she's not a huge fan of having her back end touched. She prefers it if you keep all of your attention on her gorgeous face!

When it comes to mealtimes Bella is a pretty good eater despite her lean size, she enjoys her wet food and grazes on her kibble throughout the day. Sometimes she gets rolling around and playing so hard in her cage that she tips her kibbles right into her water, the silly girl! She also has perfect litter box manners.

Bella tolerates other cats, but her big personality can be a bit much for some kitties to deal with. Bella may prefer to be an only kitty, where she can soak up the love as the light of her family's life!