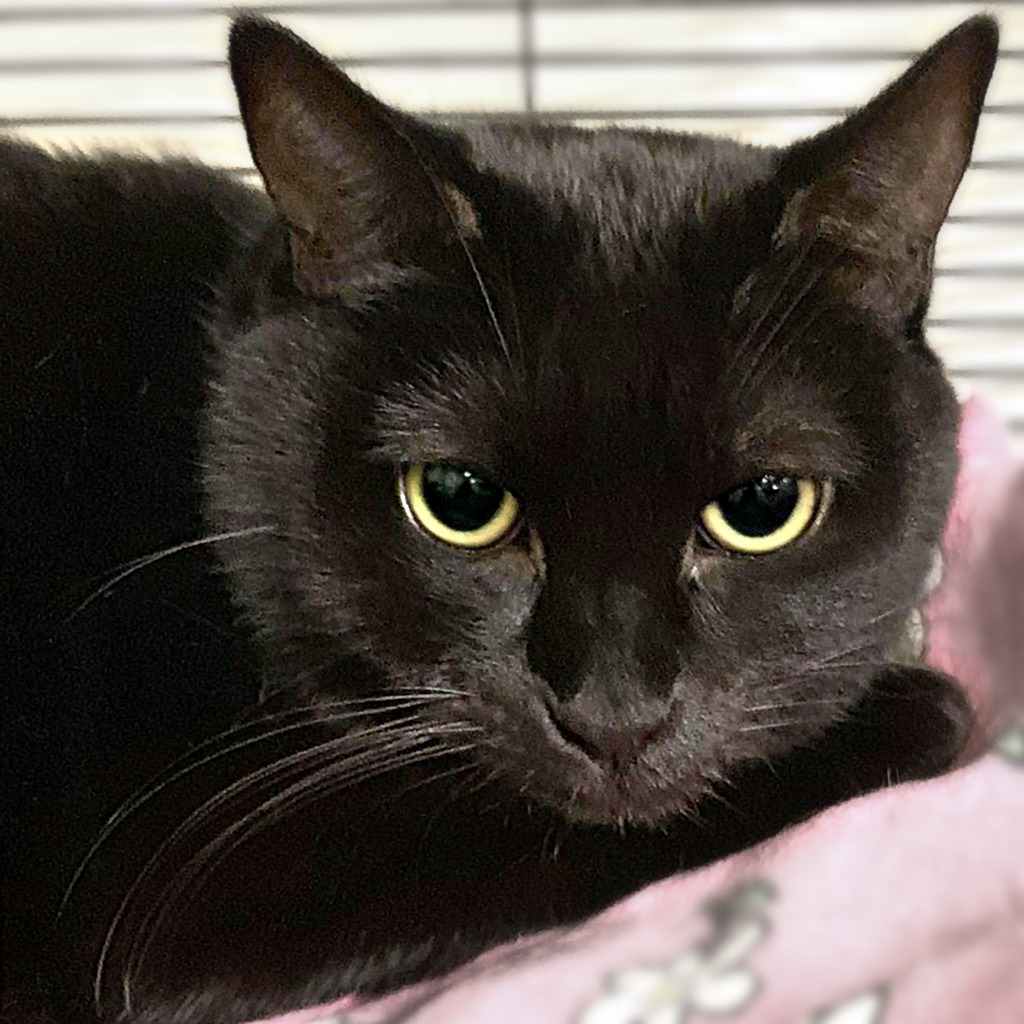 Say hello to Izzy, a sweet n' chubby gal with a black coat of fur that is so incredibly soft you just can't help but pet it... Not that Izzy minds of course, she keeps herself expertly groomed on purpose ;) Izzy knows that people can't resist her snuggling her round face or her immaculate fur!

Izzy became a member of Furry Friends alongside her sister Gizzy after a tragic turn of health took their owner away from them. At first, Izzy understandably wanted absolutely nothing to do with this whole 'shelter cat' thing, she dug her heels in and just plum ignored everyone around her as she processed the loss of her human dad. But over time, Izzy began to open up to our volunteers and allow us to get closer to her, to show her the love and affection she desperately craved after such a big change in her life.

Nowadays Izzy is still a little shy while you first introduce yourself, but it isn't long before she's flipping over and giving you her soft belly to massage! Izzy just LOVES to be loved, as long as you have your hands on her, Izzy's a happy kitty. Rub her cheeks, pet her head, brush down her back or massage her generous tummy, it doesn't matter as long as you're giving Izzy attention.

Throughout the day Izzy tends to keep to herself rather than run around with the other kitties, you can usually find her curled up in a big bed grooming her paws or nibbling at her belly, but once she lays eyes on you the purrs start rumblin' away and you know that she's ready for you to spoil her with affection. Izzy also very much enjoys watching bird videos on TV, and she will occasionally bat around a catnip toy when the mood strikes her. Once she moves into a home, we're sure that Izzy will open up and become more adventurous within the safety of her forever family!

Izzy gets along fairly well with other cats, but as previously mentioned she doesn't often seek out their company. She never picks fights or causes trouble though, Izzy just prefers the peace and quiet of human company... And all of the cuddles, brushes, and love that come with human friends!