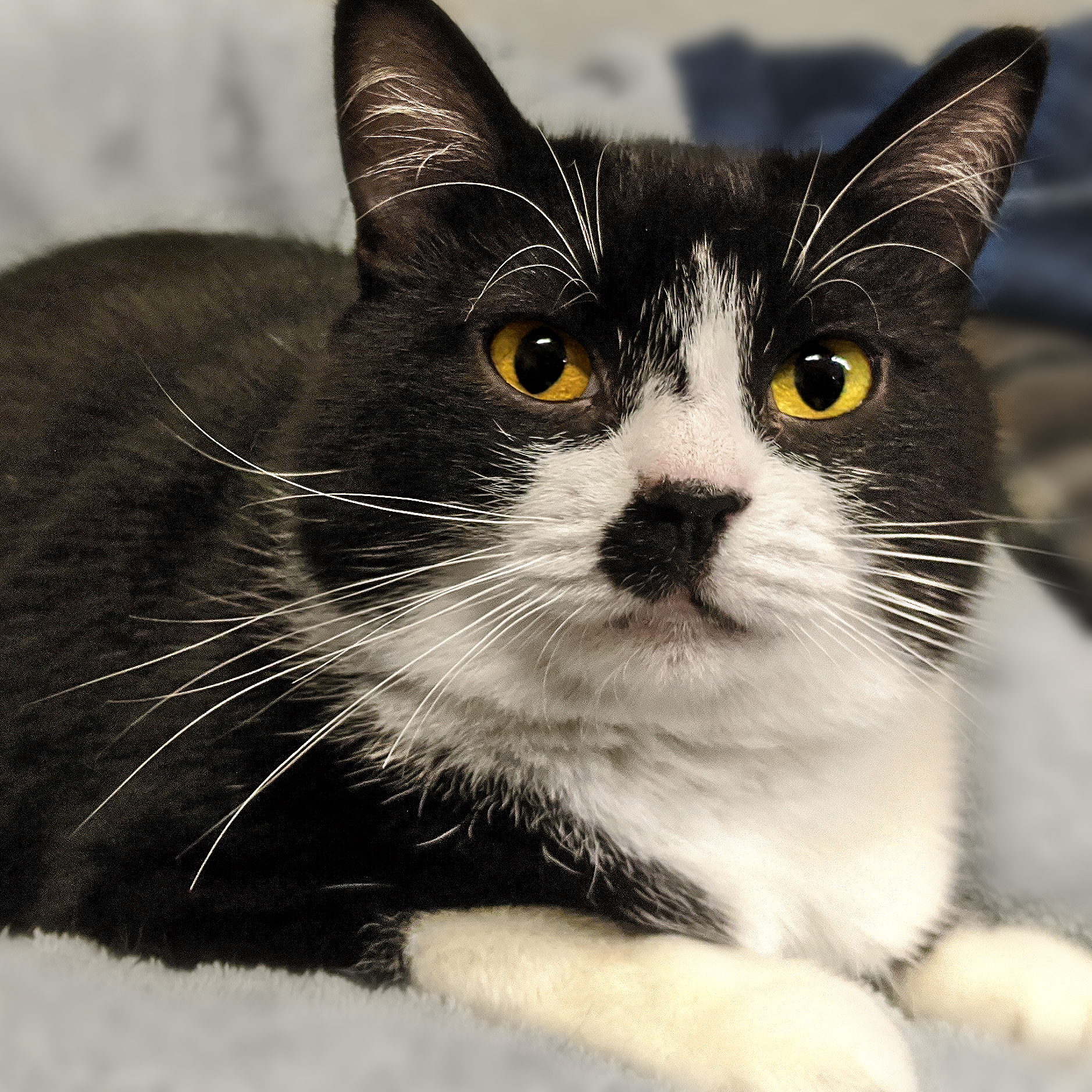 Diana is a roly-poly tuxedo darling with a sweet and energetic personality. She feels that her time is best spent playing, eating, or getting love from her humans - Or some mix of the three!

With her generous belly and happy-go-lucky attitude, you would scarcely recognize Diana these days from photos of when she first became a member of Furry Friends. As a rescue from a horrendous hoarding situation, Diana arrived at our door filthy, covered in fleas, terribly ill, and skeletal thin everywhere except from her heavily pregnant tummy. Diana was only a year old when we first met her, just a baby herself, and yet here she was ready to have kittens of her own with all of the confidence of a cat who had fought to survive since she was born.

Despite the odds stacked against her and having been given every reason to distrust humans, Diana was warm and friendly to our volunteers from the get-go. The first night she spent at our shelter, she would excitedly hold your hand in her paws up against her belly whenever you pet her, proudly showing anybody who sat with her that she was going to be a mama soon. The very next day she gave birth and even accepted a kitten from another mama who was unable to feed them herself without question - Unsurprisingly, Diana was an amazing, doting mother!

Nowadays, seeing as her job raising kittens has come to an end now that they're all grown, Diana has taken every opportunity to soak up all of the good things life has to offer safe indoors, loved and warm! Diana enjoys playing full-tilt with her fellow kitties, bounding around the shelter and chirping at everyone she sees. You'll know she's ready for some love and play time the moment she sets her sights on you, because she will flop over and start rolling around to encourage you to pet her!

Diana loves soft beds and tall places that she can curl up and watch you go about your day, and she's a fan of pretty much any toy she can get her paws on. Diana gets along well with other cats as long as they know to give this mama some space sometimes, and she's learning to be picked up briefly!